Door Accessories SL-120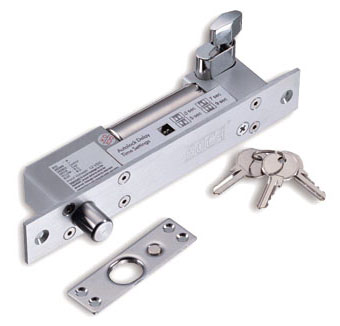 DIMENSION:
FACE PLATE : 200mm(L) x 32mm(W) x 40mm(D)
STRIKE PLATE : 90mm(L) x 26mm(W) x 2mm(D)
BOLT :17mm(Throw) x 15.5mm(Diameter)
FEATURES:
1.  Power Supply: DC 12V.
2.  Fail-secure type (Power to open).
3.  Build-in door sensor and lock position.
4.  Operation delay time: 0 sec., 3sec., 5sec., 9sec.
5.  Built-in delayed egress control point.
SPECIFICATIONS:
1.  Operation current : 900mA, Holding current: 320mA
2.  Fail- secure type (Power to open.), MOV surge protection.
3.  Oval Cylinder will unlock when power cut occurred.
4.  Built-In Delayed Egress Control Point, and door will therefore lock automatically when door is not opened within 5 seconds.
5.  Suitable for 180 degree swing door
6.  Build-in CPU for door position detection and currency control to avoid error action.