Business cards are basic and effective marketing tool for business world. Create business cards with us with fast turn-around time, high quality and variety of paper stocks.  You can start order the cards from 100 pcs/design.
If you don't have your file, let us create your file.
Please use "Business Cards Design Template Contact Form".
Size
Business card's size varies from country to country. You may design, or choose the size from common sizes listed here. For other sizes, please
contact us
.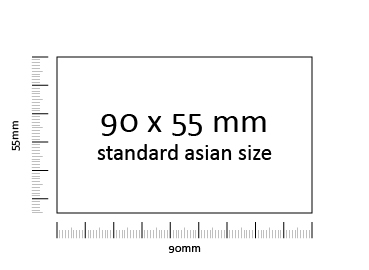 90x55mm

Common business cards' size used in Thailand, and in many Asian countries.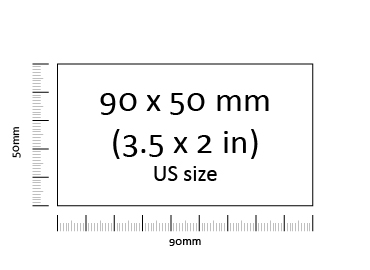 90x50mm (3.5x2 inch)

This size is common in US, etc.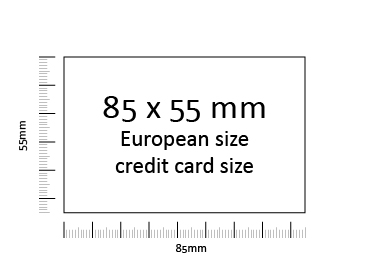 85x55mm

Credit card size, easily fits inside wallet and is common size in Europe.
85x50mm

Alternative size which you can create your design from Canva.com.
Select 'PDF-Print' and check 'Crop marks and bleed' when you download your file.
Optional finishing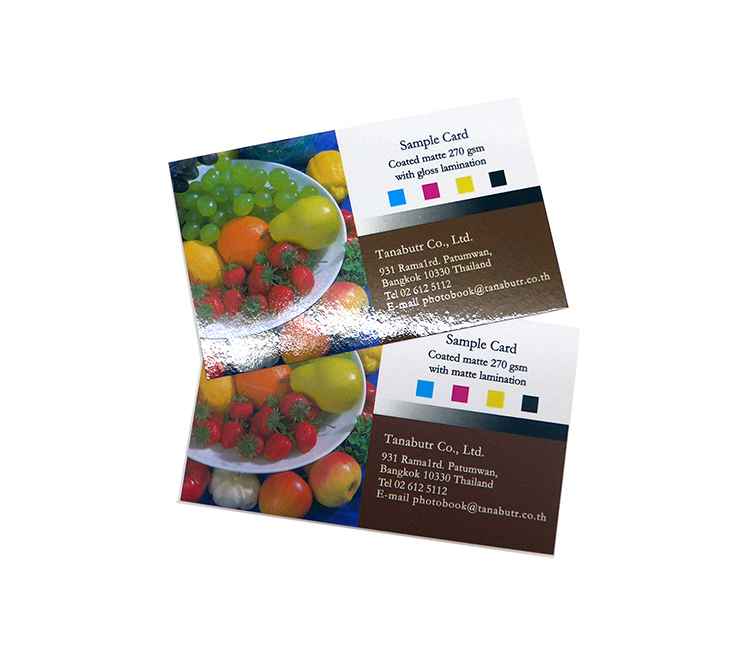 Gloss lamination

Laminate cards with shiny PP film. This makes the card's surface totally shiny, and color looks more vivid. Also protect surface from water drop.

Matt lamination

Laminate cards with matt PP film. This makes the card's surface totally matt (dull), not reflecting light. Also protect surface from water drop.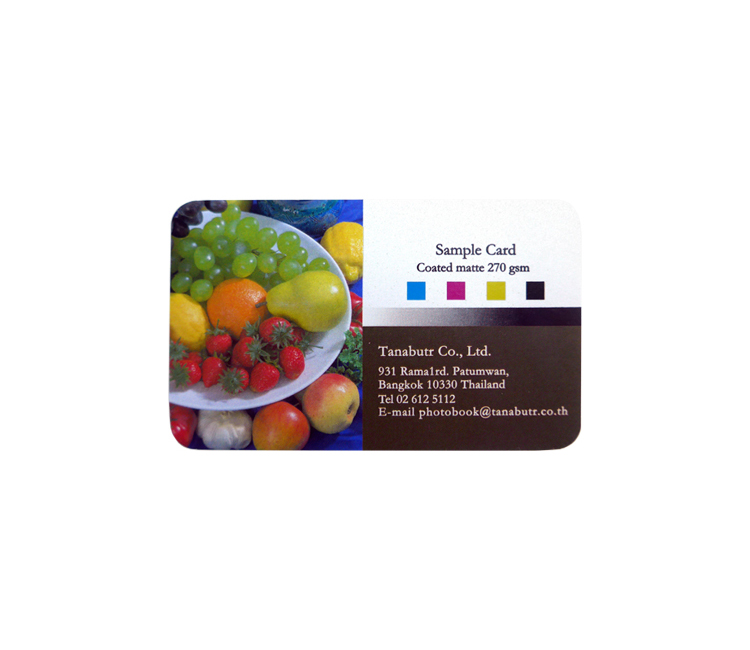 Round cornered cutting

6mm radius round cornered cutting.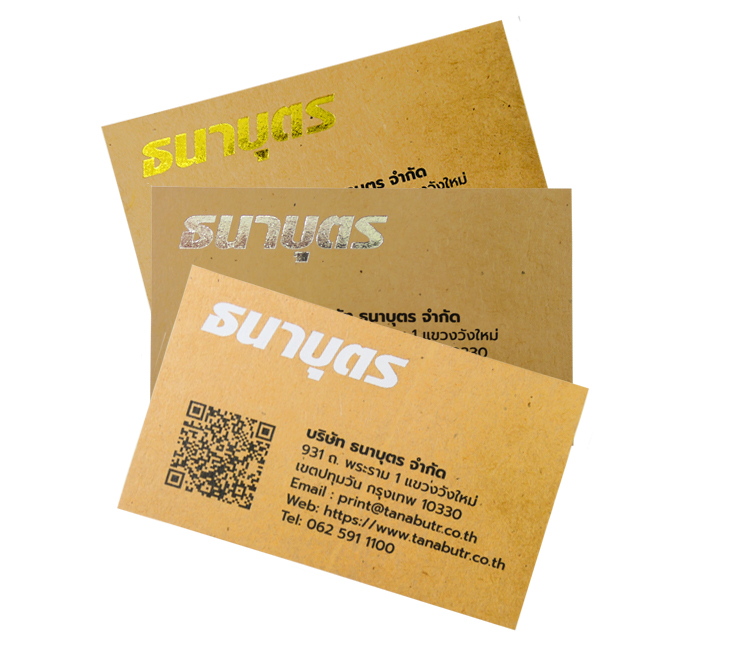 Gold, Silver or White Foil Finishing

Add special effect on your business cards with hot stamping foil. Gold, Silver and White foil are available. The sample picture shows stamping effect on Kraft paper business card.
How to order
  1 Submit your ready-to-print file online.

Prepare ready-to-print PDF file, and submit to us online using the form below. We will send you the quotation.
  2 Make a payment.

Online payment: PayPal. Basically, PayPal will notify us that your print jobs are ready to start.
Bank transfer (wire transfer): Print jobs are set On Hold until payment clears (confirmed by us). This option takes more time to confirm the payment than on-line payment through PayPal. Please send us your payment statement by email attachment.
Pay at the shop: Tanabutr is located just in front of National Stadium Station (BTS Silom line) exit 1.
  3 Picking up or Shipping

You can pick up at the shop when business cards are ready. If you ordered business cards with shipping option, we will ship via EMS and notify you a tracking number by email.
How to prepare the correct artwork
Here are some important things you should (must) do when creating artwork for printing business cards.
Provide the bleed area in your artwork each side (top-bottom-left-right) at least 3mm.
For example, if the desired business card size is 90x55mm, in Illustrator, you must set bleed 3mm in "Document setup..".  Create your artwork to have bleed area. When save a PDF copy, PDF must include bleed. If you use Photoshop, the image size must be 96x61mm at resolution 300 ppi (pixel per inch).
Logo, text, or important parts must be inside safe zone.
Safe zone is the area inside margin which is apart from each card's side 3mm.
Do not draw border as a guide of business card's size.
For Illustrator, if you set document's bleed, and save a PDF copy as PDF/X, necessary information is already inside the file. For Photoshop, there is no such concept, you should inform us if your artwork includes bleed or not.
Crop mark in the artwork is optional.
Example Final size : 90x50mm
Prepared artwork size : Final size + 3 mm bleed on all edges  : 96x61mm