Electronic Time Recorder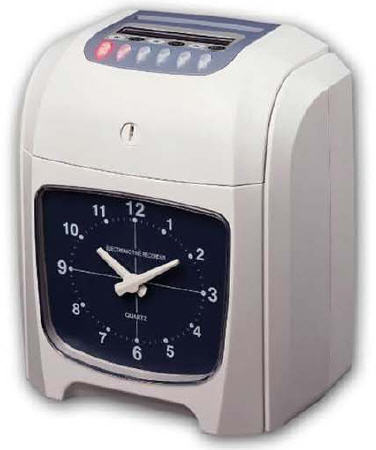 Baht 6,300
Perpetual calendar, automatically adjusts for Daylight Savings Time.
2 colors printing, highlight tardiness and early departure processing.
Standard 6 columns grid with automatic column or manual shift.
Dot-Matirx 9 pins printer.
Build-In inner speaker for musical melody.
Signal Output connector equipped.
Desktop or wall mountable.
NiCad battery pack is available for selection.
Specification
| | |
| --- | --- |
| Power Rating | 110-120 V~ (or 220-240 V~) refer to the indication on the label of each machine |
| AMP | 0.22 Amp |
| Dimension | 10.5 X 19 x 22.5 cm3 (D x W x H) |
| Weight | 2.0 KGS |
| Ambient | 0°C-40°C |
| Condition | 10-80 RH% |
| Standard Time Card | 86 mm x 189 mm (W x L) |