* Buy now on LAZADA and SHOPEE
5,900 baht.  Free time card for 500 pc. and 50-slot card holder rack 1 pc.
Touch screen display.  Good visibility in poor light.  Fast and silent operation.  Robust and durable.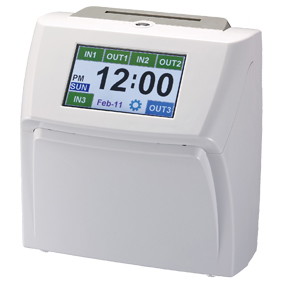 TFT touch screen display (same as navigator and mobile phone displays).   Very good visibility in poor light.
6 columns print
2-color ribbon (black/red).
Silent and fast card feeding.  Durable.
Alarm bell / Output connector equipped and Built-in internal speaker for musical melody.
Perpetual calendar and day-light saving time feature.
Automatic card feed in & out with robust 9-pin dot-matrix printhead
Warranty 1 year with Spare part service.
Built-in battery backup.
Specification
| | |
| --- | --- |
| Power Rating | 110-120 V~ (or 220-240 V~) refer to the indication on the label of each machine |
| AMP | 0.22 Amp |
| Dimension | 12 X 19.8 x 21 cm3 (D x W x H) |
| Weight | 2.0 KGS |
| Ambient | 0°C-40°C |
| Condition | 10-80 RH% |
| Standard Time Card | 86 mm x 189 mm (W x L) |