RFID card readers AR-721HV3
AR-721 HV3 125K
Stand-alone Controller/Networking Reader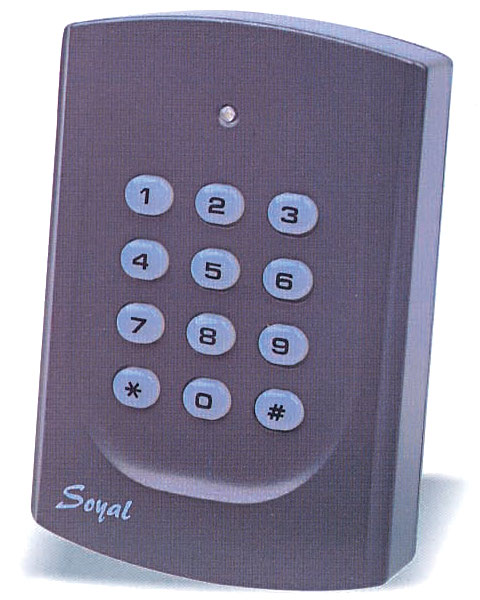 System Architecture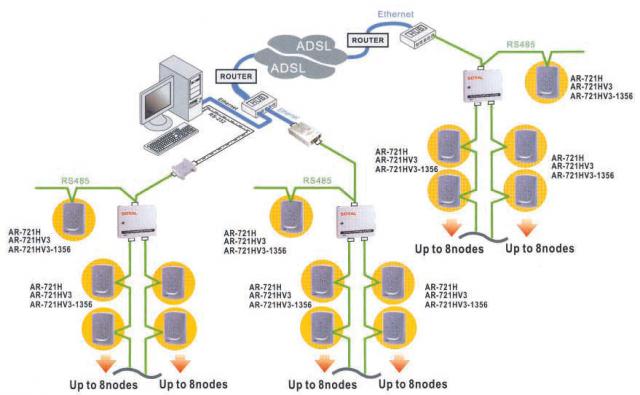 Feature
12 numeric keypad, 1 bicolor LED (green and red) and buzzer indicator.
Bell potput (Optional)
Support software (701Server 6.22 & 701 Client Ver6.28)
Unlimited Site Code
11 sets of Time Zone
Different time zone for each user
Up to 120 holiday that can be set in a year starting from the editing date.
Keypad will be locked for 30 seconds while continuous error operation.
Built-in watchdog to prevent the system halting.
Support door relay Auto-relock Function.
One RS-485 Port supported for networking (via controller or directory)
Built-in a reader and an external reader port for exit or antio-pass-back function.
Support with keypad locks immd &all cards entrance allowance before cards editing finished.
Control mode, card capacity and card type assignable by user directly.
Buitl-in a proximity reader, a external wiegand reader port and IC card reader (optional)
Auto-discriminating between stand-alone & networking system, AR-721H could connect with controller AR-716EV2,AR-716Ei to have multi-door anti-pass back
Alarm function is available (Tamper, Force entrance, Door open too long)
Door unlock time setting, latched-on/ latched-off or momentary 0.1-600 seconds.
Press * + # to lock / unlock keypad.
Press 0 + # for all cards entrance allowance
Providing proximity card flash edit mode for easy & quick setting.
Integrates any brand, any frequency of Wiegand reader with SOYAL or other access
Built-in open door relay, alarm relay and request to exit button input.
Specification
Item No.
AR-721HV3
 
M4
M6
M8
Transactions
1200
 
1200
Card user
1024
65536
1024
Anti-pass-back
1024
1024
1024
Lift Control
32/1024
 
32/1024
Access Mode
Card only
 
Card
 
Card + Code
Card
Card + Code
 
P/N + Code
 
Code
Auto-show Duty time
*
*
*
Keep last 1200 transactions
*
 
*
Bell output
*
*
*
Support software
(701Server6.22&701 Client Ver6.28)
*
 
*
11 sets of Time Zone
*
 
*
Different time zone for each user
*
 
*
Duress Output
*
 
*
Arming Output
*
 
*
Voltage Current
10-24VDC/ <3W
Security
NONE
RF Frequency/Reading range
125KHz / About 15 cm
Networking
RS-485, 9600, N,8,1
External reader port
Suitable for all WG, ABA reader, 125K, 13.56M (Mifare) or 2.4G reader
Door relay
2A/12VDC  N.O./N.C./COM  0.1~600sec./Latch type
Alarm relay
Transisyor Output / Serial Output (selective)
Tamper switch
External AR-401RO16
Serial Port
Limit Switch (From C)
Dimension (mm)
ABS / 112(L)*76(W)*25(H)